Cranberry Muffins with Orange crumble topping
Makes 1 dozen
1 recipee Orange Crumble Topping (recipe follows)
2 cups all-purpose flour
1 cup sugar
2 tsp baking powder
1/4 tsp salt
1 cup fresh or frozen cranberries
2 large eggs
1/2 cup butter, melted and cooled
1/2 cup milk
1/2 cup sour cream
1. Preheat oven to 400. Grease and sugar a 12 cup muffin pan; set aside.
2 Prepare Orange Crumble Topping; set aside.
3. In a medium bowl, combine flour, sugar, baking powder, and salt. Add cranberries, stirring to combine.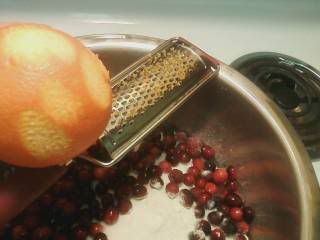 4. In a separate bowl, whisk together eggs, butter, milk and sour cream.
Add egg mixture to flour mixture, stirring just until dry ingredients are moistened (batter will be lumpy; do not over mix).
Evenly divide batter among muffin cups (cups will be almost full).
Evenly divide Orange Crumble Topping over top of batter. Bake for 18-20 minutes, or until a wooden pick inserted in center comes out clean. Cool in pan for 10 minutes.
Orange Crumble Topping
Makes 1/2 cup
1/4 cup sugar
1/4 cup all-purpose flour
1.5 tsp grated orange zest
1/4 tsp ground cinnamon
1 TBS butter, melted
1. In a small bowl, combine sugar, flour, orange zest and cinnamon. Add melted butter, stirring until crumbly.
And yummm!!!!!