Bacon Chocolate Chip Cookies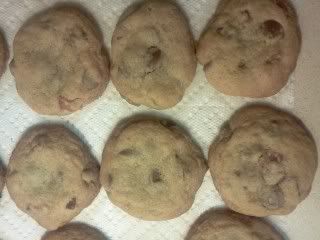 Prep Time:30 minInactive Prep Time:1 hr 30 minCook Time:25 min
Level:
Intermediate
Serves:
3 dozen cookies
Ingredients
12 ounces bacon, cut into 1/4-inch dice*
2 1/2 cups all-purpose flour
1 teaspoon baking soda
1 teaspoon salt
1/4 teaspoon baking powder
1/2 cup unsalted butter, softened
1/2 cup reserved bacon fat, chilled
3/4 cup granulated sugar
1/2 cup packed light brown sugar
1/4 cup packed dark brown sugar
2 tablespoons bourbon liquor
1 teaspoon vanilla extract
2 large eggs
8 ounces dark chocolate 65-percent or higher cocoa content, chopped into small pieces**
Directions
In a large saute pan, cook out the diced bacon until the bacon pieces are golden and crisp. Remove the bacon pieces from the fat and drain on a paper towel. Strain the fat through a fine sieve and measure out a 1/2 cup bacon fat and chill the bacon fat until it congeals and is set.
Preheat the oven to 375 degrees F.
Combine the flour, baking soda, salt, and baking powder in a small bowl. Beat the butter, chilled bacon fat, granulated sugar, light sugar, dark brown sugar, bourbon, and vanilla, in a large mixer bowl, until it is well combined.
Add the eggs one at a time, beating well after each addition; gradually beat in the flour mixture. Stir in the cooked bacon pieces and chopped chocolate bits. Drop by rounded tablespoon onto parchment-lined baking sheets at least 3-inches apart.
Bake in the oven for 9 to 11 minutes or until golden brown. Let stand for 2 minutes; remove to wire racks to cool completely.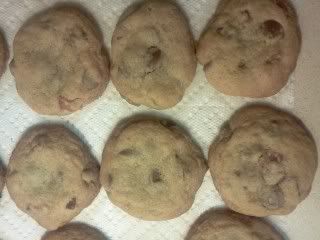 Keep in a dry, airtight container for up to 5 days.