I must say that this is one of my favorite holiday dishes. I have made it for the last ten years and always thrilled with how easy and Yummy it is.
You will need:
2 Bags of real cranberries
4 Cups of mini marshmallows
2 Cups of sugar
3 Cups of green grapes
2 Cups of walnut pieces
1 Orange
1 Large Cool Whip
Take your washed cranberries and food process them. They should look like this...
Once this is done add the two cups of sugar and the marshmellows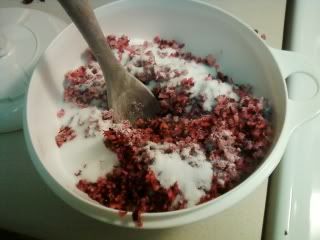 Chill over night so that it all softens
It will look like this...
Now, in a second bowl add your grapes, walnuts and orange zest
Combine the two mixtures Bowl 1 and 2...
Add your cool whip and its ready to eat!!! I hope you enjoy this as much as our family does.